Special thanks to Luther's grandson, Brannon Luther Gullatt, and the Gullatt family for the use of this diary
---
Editor's Note
The following diary was written by Luther Gullatt, an American soldier from Alabama who was part of the American Expeditionary Force that fought in Europe during the final year of World War I. It is a typical diary full of short notations, quick observations, misspellings, grammatical errors (all of which we took no effort to correct), and mistaken French towns that Luther tried his best to decipher into English. In all, the diary is what you would expect from any soldier. But what the diary also provides is a realistic glimpse into military life during war: a life of endless tedium interspersed with backbreaking marches, labor details, shifting and moving in secrecy, illness, homesickness, and poor diet. Add to this the few, swift, terrifying moments of actual combat and you have the "doughboy's" experience. One final, almost tragic note was Luther's first taste of combat having occurred two days before the Armistice on November 11, 1918, typical of the late-arriving American troops onto the French fronts.
Part I . Training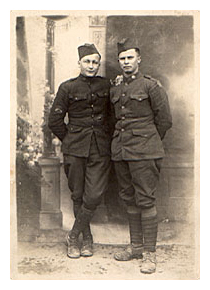 Luther Gullatt (right) and a fellow soldier
May 28, 1918, this date I left home for Camp Sevier. Reached the camp May 29th at about eight o'clock and was nearly dead for something to eat. The first thing when I got in the tent and sit my suit case down the Sgt. blew his whistle to fall out and they chased us around for awhile. Then they gave us a messkit and we all lined up and after so long we got some army food and it didn't taste good to me as I wasn't use to the way they cooked.
Then the rest of the day was spent in Lt. Welch & Lt. High talking to us on army rules & regulations and what all the law would do if we didn't walk a chalk line; and poor fool I believed it for awhile but it wasn't long before I found out that there was lots of bull to it all and that the biggest thing to do to keep out of trouble was not to fail to salute all the Lieutenants.
They drilled us a good bit and on June 14th we was sent from the depot battalion to our CO and Boykin Smith (most likely a hometown friend) and myself was awful afraid we would get separated; but he was sent to B. Co. and I was in Co. A. Then they gave us our rifles June 16th and told us to have them cleaned up by Monday; so Sunday (still the 16th) was the first Sunday that I had ever worked all day . . . I sure did have to work on that rifle. We drilled 8 or 9 hours a day, and Sunday, and after supper, but I still lived thanks to the Good Lord.
July 14, my two brothers came to see me, Clarence & Chilton. Then on the 15th Monday we boarded train(s) for embarkation. July 16, we passed through S.C. & N.C., VA., Maryland & Delaware. The Red Cross gave us a snack to eat in Phila. about 9 p.m. The morning of the 17, we awoke in Jersey City, we crossed over to N.Y. on the Bond Brook (possibly the name of a ferry) after sailing up under the Brooklyn Bridge and Manhattan Bridge and two other bridges. We did not embark for over sea but entrained for Camp Upton. We arrived their at 6 p.m. We staid there and done some hard drilling until July 30. Then we left Camp Upton at 8 a.m. and entrained for N.Y. City.
Part II . Heading for the War
We went on board the English steamship . . . Cunard line at 4 p.m. The gang plank was drawn and we lay at anchor the rest of the day. On July 31, our ship began to move at 12:14 p.m. and that night I got sea sick. I spent most of my time on deck day and night. Aug 8, our ship got lost from the convoy on account of fog and I got a bit frighten as we were in the danger zone. Aug 9, our fleet of 17 ships were met by several sub chasers. Aug 10, I saw land, it was the northern coast of Ireland; we spent the day sailing down between Ireland on the right and Scotland on the left. Aug 11, we arrived in Liverpool about 7 a.m., but had to lay at anchor until about 5 o'clock that p.m. That was the first land I have been on since July 30.
We marched 6 miles through the city and spent the night at a rest camp called Knotty Ash. The people look to be poverty stricken badly. Aug 12, as soon as we ate breakfast we hiked five miles and entrained at 8 a.m. in box cars. We stopped in Birmingham and Oxford. We didn't see any wooden buildings at all, but saw fine fields of grain and lots of sheep. We arrived at Winchester at 4 p.m. Then we hiked to Camp Winnal(?) Downs. Aug 15, still at the "starvation" camp eating mutton about half cooked and most all of the boys are sick , but I feel very well. Aug 17, we have been hiking about 10 or 12 mi. each day. Many of the houses are built of stone and covered with straw. Aug 18, as usual we are moving. On Sunday we left Camp W.D. at 7 a.m. hiked five miles to the R.R. station; we entrained for South Hampton. We got to S.H. about 10 a.m. spent the rest of the day in a big ware house. At 6 p.m. we embarked for the A.S. ship Howard.
Aug 19, we awoke in the dock in Le Harve, France, and then we hiked five mi. through the city to another rest camp. This is the first German prisoners I have seen. Aug 20, we hiked about 6 mi. and entrained for unknown parts. Here they put us in cars that horses had been riding in . . . 40 to the car. On this trip we passed through Paris.
Aug 21, we unloaded at Ervy, hiked 7 mi., pitched dog tents and spent the night the next morning. We moved up in Chessy (possibly Chaource or Coussey, east of Ervy) and were billited. I slept in a wood house. This life is hell, we hiked every day with heavy packs until Sept 1. On Sunday, we drew a payday for July, hiked on. Sept 14. We have been hiking three days in the rain. Sept 15, we drew a few franks (French currency) for pay day. We left Ervy that evening late, went to the R.R., lay out on the ground until midnight. There, got on the train for the front.
Part III. At the Front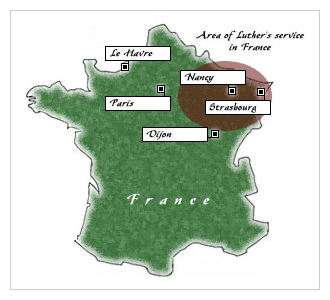 Sept 16, we spent the day on the train. Sept. 17, we unloaded at midnight in Bruyers (Bruyéres in eastern France, south of Nancy and southwest of Strasbourg); there was an air ship sailed over with a big search light; I guess it was a "Bosk" (a debaser used to slight Germans, akin to "Hun"). We hiked 7 mi. up in the mountain. We taken gas instruction today at Grandvillers (possibly Gerbeviller or Rambervillers, both just north of Bruyéres). Sept 18, we are still taking training to meet the Bosks. At 8 p.m. we loaded on trucks and road until midnight, then we got off and slept in old barns. This trip I saw lots of the work of the Bosks; towns torn all to pieces. And during the night we had an air raid and one French soldier got killed and one Bosk plane brought down. At Liaville (probably Lunéville, also north of Bruyéres, east of Nancy), Sept 19, at 2 p.m., we started a 13 mile march to meet "Fritz." We reached our dugouts about 9 p.m. Sept 20, last night the French artillery on our back and the Germans in front of us and they kept lots of music (artillery), but I slept very well as I was so tired. We left Pierre (?) Sept 23 at 9 p.m., hiked 10 mi. into Raon-l'Etape and have rested all day today. Sept 24, on this night we slept in French barracks at Roboche (?). Sept 25, I was sent to Battallion P.C. for a courier, and from there sent to Reg. P.C. for the same thing. I passed through St. Die on my way to Reg. P.C. and stopped to rest and here; for the first time since I came to the army got my name taken for not saluting a Lieut. Reg. P.C. was at Dijon. We staid here 24 days; there we hiked to Giercount (possibly Mirecourt, south of Nancy). Oct 31, we hiked . . . 10 mi.
Nov 1, we road on box cars all night and at day light we passed through St. Mihiel – torn all to pieces – and unloaded at Barrancount (possibly Rambucourt, just east of St. Mihiel and west of Nancy). We then marched 3 mi. and fell out side of a barrack and spent the day and the day was cold and cloudy. Nov 2, last night we left for Verdun front, hiked 25 mi. to Belrupt (possibly the Belgian border). I got to sleep about 4 hrs in a French red cross barn. Nov 6, we hiked 4 mi. to the front line. Nov 9, we went over the top at day break and this is where I found it like Sherman said ("war is hell"). Nov 10, out all day and night in shell holes and in water and about to freeze. Nov. 11, 11 a.m. not a gun to be heard anywhere – Thank God.
Part IV. After the Armistice
Nov 13, we hiked back to the dug outs. Nov 17, I . . . marched with the first Batallion, on 18 we started on the long hike of 200 mi. – we hiked evry day rain or shine and my feet was mighty sore. Dec 3, we finished our hike; we went into Langres (southwest of Nancy) about 12 o'clock. Dec 16, I left Reg P.C. and moved to first battallion P.C. and don't have to work so hard. Dec 25, Xmas day spent back in my room reading and writing and it was lonesome.
Publication Date: 2001
---